As autumn settles in, I always find myself drawn towards russet/orange tones. They're a cozy and comforting addition to any decor and allows your interior to beckon the visitor to stay for awhile. There's another translation to this palette, which offers some of the same gregarious intention while being just a few lighter steps above the color strip. You might call it 'clay', 'blush', 'peche', 'wheat', or 'terra' but it's definitely somewhere in the peach family.
When I was in design school, in the 80's, this color was used in great abundance, being coupled with blue and teal. Yes, I even did a design board for a project showing this major trend! While I may have shivered at the notion of a return to that design decade, I'm rethinking how beautiful some of the various tints of this hue can be!
Martin Senour Paints - Walls -1017-C Cloudy Peach, Floor - Country Brown (Package Color) and MSW-2 White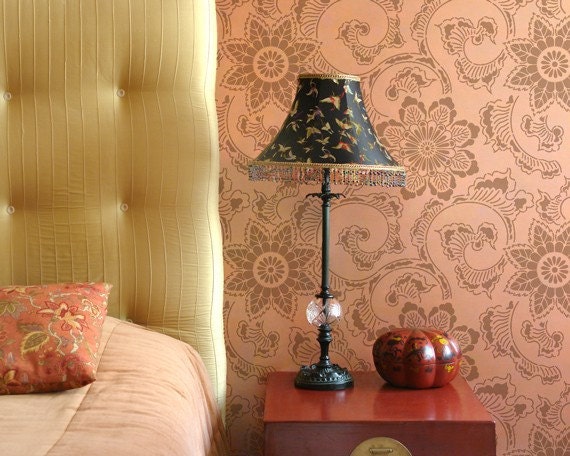 Royal Design Studio - 3035 Kimono Allover Stencil
Sferra Fine Linens – Ophelia Pillow
Anna French – Wild Flora Pattern for Thibaut
Martha Stewart calls this 'wheat'.
Oh, and an added bonus: Martha Stewart provides an excellent suggestion for organizing paint swatches!
Peach . . . Does it give you the warm fuzzies?