So maybe you figured since today was forecasted to be the end of the world and it would be silly to decorate for Christmas . . .
Well, we know if you're reading my post - all is well as well can be. Your only heart palpitating moment is that people will be arriving and wondering if it was the Grinch that stole Christmas and not the Mayan calendar!
What to do?????
Here's a list of fast and fresh solutions for bringing things back to life! Forget trying to go for all things Christmas but think of carrying the concept over to a winter scheme for the days, after.
Call your local florist! Now don't expect that they can special order those blooming amaryllis bulbs for you, unless they had a party cancellation and some are on hand. Think outside of the box on what you can put together. Chances are they still have some evergreen pieces and can combine them in a clever way. White or red roses are almost always around.
In the case of my local shop, August Lily Florist, they posted some gorgeous hydrangea stems and a friend of mine popped them in an ironstone pitcher for instant impact. Yes, it's okay to ask for just the stems without the arranging. They may hug you for it!
Hit the local grocery store. You know you'll have to pick up some goodies for munching so if you really need to double-task, even the chain stores seem to carry Norfolk Island Pines or some sort of potted evergreen. (Remember, we're talking about keeping it simple and fresh. No climbing in the attic and dragging out all of the Santa's, at this point!)
Get rid of the store's bows and add a few simple ornaments, in one color, as shown in Mr. Brown Thumb's example. There will be less to put away, at the end of the season, and you'll still have a lovely plant to enjoy, during all of the dull winter months. Here's a link with care details.
While you're picking up some apples and pears for your wine accompaniments, set aside a few extra for making sugar-coated fruit. I know we're keeping things simple, but it's sooooo pretty! Simply roll the fruit in egg whites, shake off the excess over the sink, then roll in granulated sugar. Nothing extra fancy that you don't have at home. Let them dry and stack them on a stand. (Not for food consumption and they will get a little sticky after a few days.)
Mix balls, boughs and bright, shiny beads. We all love that sparkle but it can sometimes come across as stiff and unwelcoming without a little texture. Take a cue from the photos, below.
(All images above – via Pinterest)
Fragrance brings the holidays home. If you're able to bring in some of the fresh ingredients, you won't need much. If I'm making mulled cider, that's enough to fill the house with a festive feeling. If I need a quick waft of the holidays, these are my go-to's:
I love the "Wine Under the Tree"
The Thymes Frasier Fir = No tree needed!
Well, that's a wrap on Christmas posts. I hope you have a wonderful celebration with lots of special times and hugs. I forgot to add, hugs are at the top of my list, even before the décor!
Looking forward to seeing you in the New Year with some new ideas!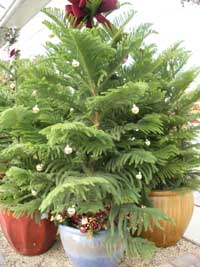 To subscribe to my blog updates via email click here.
To follow Wanda S. Horton Interior Design on Facebook click here.
To follow me on Pinterest click here.
Drop me a line to find out more about my design services. Now booking into 2013!