As I watch a dusting of rare snow, from my office window, I'm also seeing my mom friends' briefly worded posts of "Really?!" – and – "Again?" – "School is CLOSED!" – and "What a mess!". While not quite totally feeling their pain, as I have no little ones or teenagers running in and out of the house, I think I have a pretty good clue as to the mess and muck of which they're trying to keep under control.
(Image via – source)
This is where I think a proper mudroom is more than a luxury, it's a necessity in keeping the family unit's gear and garb from piling up at the back door or hallway. It contributes greatly towards keeping sanity, too!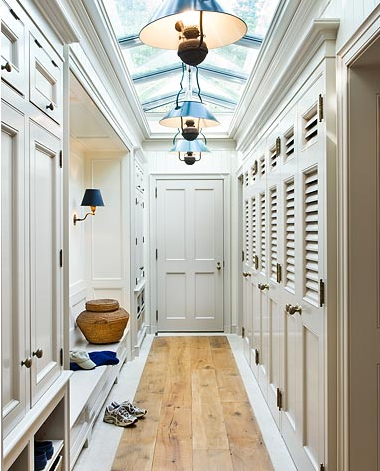 (Image via Quintessence Blog, from Veranda Magazine and designed by Gil Schaffer)
The mud entry, above, is a stunning example of functional storage married with an outstanding aesthetic. Everything has a place to be tucked without feeling as if one has stepped into the abyss of a catch-all space.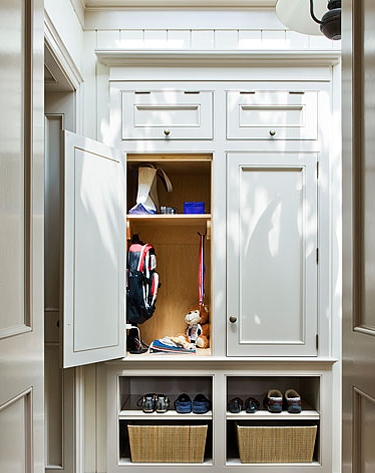 (Image attributed to same sources, from previous photo.)
Imagine having storage for more than just hats, coats and gloves . . . backpacks, play gear, dog leashes and pet toys . . . An important part of planning any storage space is anticipating what you have on hand and also peering into the future.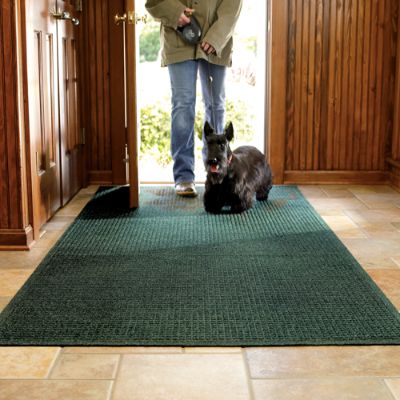 (To help absorb wet paws, both furry and human, get a super absorbent floor mat, like this one from Frontgate. It's available in several colors.)
Of course, depending on where you live and your stage of life, five to ten years down the road will make an impact on those decisions. I've often had to consider storage for multiple generations. When an aging parent visits, a place to tuck a walker or a cane can be more than welcome. Oh, and if a slip on the ice causes more than an embarrassing bruise, no matter the age, vertical storage can come in handy for a set of crutches. A reminder to salt or sand those walkways!
(There are a variety of boot trays for designating mucky boots and shoes. You can created your own or find some pretty options at places like Ballard Design. They can save your floor from unwelcome tracking.)
(A few years ago, while a client was in transition before we added in a custom cubby unit, we utilized some accents to create hidden storage. The lidded basket, the storage ottomans and the small boxes on the custom wall console, all had a purpose in keeping order.)
A huge part of my mission, in designing spaces, is to help folks remember it's not just about who lives in the house but it's also about putting out the welcome mat for family and friends. It's about considering multiple needs for everyone, especially in auxiliary spaces.
A new-build project, in which I've been included, will have some generous rooms for accommodating many of the family's needs. This is just part of the area, to include laundry and pet facilities. Stay-tuned for photos of our progress! (Cabinetry by Distinctive Cabinets.)
Of course, mud rooms have more than one season, depending on where you live. Mud and show aren't required ingredients. Sand is welcome, too. I sure could stand to feel some between my frozen toes!
Signing off from frosty North Carolina! – Wanda