In a few short weeks, I'll be heading to Charleston, South Carolina, to take part in the Southern Coterie Summit. It sounds like it will be a field day – or three – for creative minds and tastemakers, among many other things. (I'll bring you up-to-speed when I get back, as it will be a first time for me.)
Charleston is one of my absolutely favorite cities and it's been way too long since I've visited this lovely, southern belle. To be able to enjoy her in the springtime is even more of a bonus! Walking down the side streets, where almost every home has window boxes overflowing with gorgeous plantings . . . well, it just brings delight at every turn!
The smart folks at The Charleston Window Box Company, figured out how to design a structure to keep those beautiful blossoms happy. As they share on their website, in order to keep the boxes intact, they've built them like boats with marine-grade plywood bond and a special epoxy, as water is the enemy of most outdoor furnishings.
The designs are clean and simple, to allow for the show-stopping flowers and plantings to be front and center.
I sure hope to see some lush examples, like this one from The Garden Buzz.
One of the reasons I love this city is the vast display of architecture and details. I'm definitely going to be bringing the good camera along.
(Rainbow Row – A collective of row houses in bright hues. Look at those window planters!)
Conde Nast Traveler's readers ranked Charleston the #2 city for the best vacation destination. Since it's just a half day's drive for me, it's easy to take it for granted but I'm going to the conference with a new found admiration. Perhaps it's true how absence makes the heart grow fonder.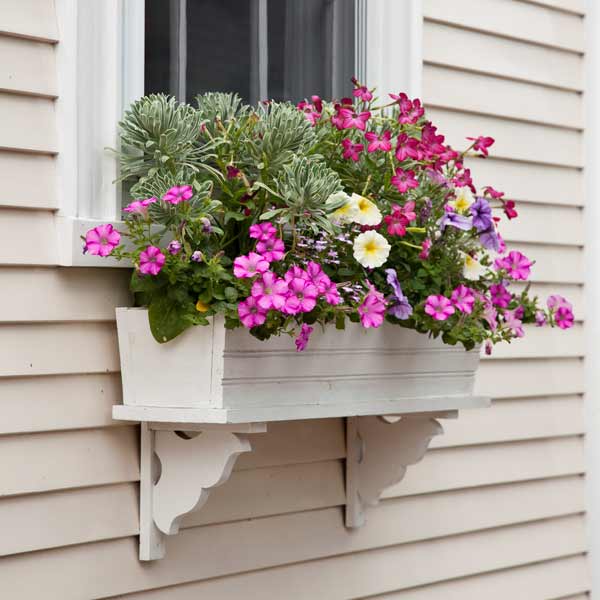 (Photo: Deborah Whitlaw Llewellyn)
While it's a little early to plant in our area, here's a great tutorial, from This Old House, when you're ready to begin. Don't forget to order your window boxes from THE source – The Charleston Window Box Company. (I'm not paid to share this source – I just love well-made products!)
Happy Weekend! ~ Wanda